Profile

Lily's Musings
Tale's from a Dragon's Quill
Free Account
Created on 2011-05-05 14:00:59 (#887032), last updated 2013-01-18 (243 weeks ago)
13,495 comments received, 1 comment posted
7,114 Journal Entries, 61 Tags, 0 Memories, 12 Icons

About

Mini Bio
I am a student of Scottish Gaelic , totally obsessed with
The Lord of the Rings
and hobbits! This is also what my journal is mostly about... hobbits, the Shire and... well, hobbits :)
I'm also interested in almost all kinds of fantasy and if there is something mystical going on I'm always eager to find out. Ohter fandoms include: Doctor Who, Being Human, Narnia, Good Omens, Harry Potter, Numb3rs, Inuyasha, His Dark Materials.
Feel free to friend or unfriend me as you will. I cannot assure though that I will friend you back. Time is such a precious thing...
This is just a backup journal. My real journal can be found on
.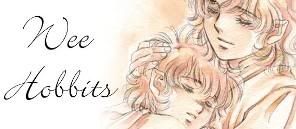 If you're interested in Merimac Brandybuck he is my claim for the

hobbits100 writing marathon :) And I have now expanded my table from 20 to 100 prompts. Yes, you may call me crazy :)


Table with Finished Stories



~*~*~
Oh, Captain, my Captain, unnoticed by me
My heart started longing for the vast blue sea.
Take me with thee, my love, take me far far away,
To song, to green hills, to the sea's constant sway.


Oh, Captain, my Captain, my River give me
Away from my worries, give me somewhere to flee.
Give me water so cold and gentle still
To bear me away if so it will.


Oh, Captain, my Captain, I beg thee, I do,
Let me go out to the floating green and blue,
Let me sit there at day and night if you please
To allow a dreamer some comfort and peace.


Oh, Captain, my Captain the place I call home
Is where my mind of late does roam.
The dear ones I love, the places I hold close
Are what pull me thither the most.
by me
May 2006
~*~*~


Thou ill-form'd offspring of my feeble brain,
Who after birth did'st by my side remain,
Till snatcht from thence by friends, less wise than true,
Who thee abroad expos'd to public view,
Made thee in rags, halting to th' press to trudge,
Where errors were not lessened (all may judge).
At thy return my blushing was not small,
My rambling brat (in print) should mother call.
I cast thee by as one unfit for light,
Thy Visage was so irksome in my sight,
Yet being mine own, at length affection would
Thy blemishes amend, if so I could.

I wash'd thy face, but more defects I saw,
And rubbing off a spot, still made a flaw.
I stretcht thy joints to make thee even feet,
Yet still thou run'st more hobbling than is meet.
In better dress to trim thee was my mind,
But nought save home-spun Cloth, i' th' house I find.
In this array, 'mongst Vulgars mayst thou roam.
In Critics' hands, beware thou dost not come,
And take thy way where yet thou art not known.
If for thy Father askt, say, thou hadst none;
And for thy Mother, she alas is poor,
Which caus'd her thus to send thee out of door.

Anne Bradstreet - The Author to Her Book




~*~*~

Connect
animes
, banned and banished series,
being human
, books of pelinnor,
dark tower
,
daydreaming
,
disney
,
doctor who
,
drawing
,
folk
,
good omens
,
great big sea
,
harry potter
,
his dark materials
,
hitchhiker's guide to the galaxy
,
julie fowlis
,
lady in the water
,
lord of the rings
,
merlin
,
musical
,
numb3rs
,
painting
,
reading
,
song of ice and fire
,
soundtracks
,
supernatural
,
swimming
,
tai chi
,
the hobbit
, the last airbender (animated),
watership down
,
writing

People
[View Entries]

Communities
[View entries]

Feeds
[View Entries]

Subscriptions (0)

Linking
To link to this user, copy this code:
On Dreamwidth:
Elsewhere: